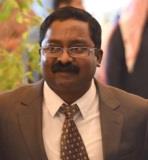 Leo Rathinaraj. A.S.
Prof
University of Hail
Saudi Arabia
Biography
Leo Rathinaraj. A.S., is a Faculty Member of the department of Physical Therapy, College of Applied Medical Sciences at University of Hail in Saudi Arabia. He has about 15 years of teaching as well as clinical practice experience in the field of Physiotherapy. He has completed graduation in Physiotherapy in 2000 from one of the prestigious Physiotherapy Institute; KMCH college of Physiotherapy, Coimbatore. After his BPT he was working as Clinical Physiotherapist in Amrita Institute of Medical Sciences a state of art multispeciality teaching hospital with excellence in research. He was selected for the post graduation program in Physiotherapy on merit basis in the KG college of Physiotherapy in 2005. His area was specialisation was advanced physiotherapy for orthopaedic conditions and his dissertation was about the effect of Multifidus Retraining Program in chronic low back pain. After successful completion of MPT in 2007, he joined as Associate Professor cum Principal In-charge of KD Gavit college of Physiotherapy in Maharashtra province of India. Later he moved to MIP college of Physiotherapy in Latur, where he was promoted as Professor and Principal. He also has post graduation in Psychology and Hospital Management. He is a certified Manual Therapist from MTFI, India. He has around 20 peer reviewed index journal publications, 20 conference presentations and 2 textbooks, also serving as editor and reviewer for few journals. He is a PhD scholar under the Faculty of Physiotherapy and his research work is effect of core stabilization exercises in the selected pulmonary function parameters. He is member of Indian Association of Physiotherapists, Saudi Physical Therapy Association, Health Care and Profession Council [hcpc], UK.
Research Interest
He has around 17 years of experience in clinical practice, teaching and research in the field of physiotherapy. He published around 20 research articles in peer reviewed index journals, 20 conference presentations and authored 2 textbooks. He has 8 prestigious awards from various organizations. Interested in the orthopaedic physiotherapy and sports injury management. Core muscle and back pain. Effect of Core stabilization exercise in altering pulmonary function. Patellofemoral pain syndrome.